SCOTT ELLIOTT SERIES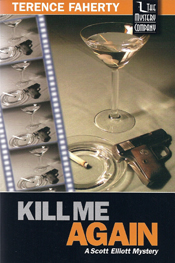 KILL ME AGAIN
JACKET COPY:
August in LA is a miserable month no matter what year it is, but August 1947 was shaping up to be a singularly awful one. The House Un-American Activities Committee had come to town and was making everyone in Hollywood, the Technicolor heart of LA, nervous. And the moguls in town were twitching because Warner Bros had decided to revive their greatest wartime romance, Passage to Lisbon, in the form of a sequel, Love me Again. This meant that the boys from Burbank had a surefire hit on their hands.
Warner Bros. wasn't so sure about that. They had received an anonymous note telling them that their screenwriter was a Red, and with the HUAC in town, that mean trouble. So Warners did what any studio would do—they called in the Hollywood Security Agency to find out the real story and hush it up. Whatever it was.
Hollywood Security specialized in the discreet laundering of the studios' dirty linen, and nobody at the agency was better than Scott Elliott, their newest operative and a one-time Paramount contract player. Elliott had returned from the war to find that nobody needed his services as an actor and had drifted into security work as a way of staying in touch with the business he loved.
The long odds against saving Love Me Again get longer when the screenwriter turns up dead. To find his killer, Elliott must untangle lives twisted by Hollywood and the war with only a bloodstained copy of the script as his guide. What he discovers is a trail of misplaced loyalties and secret dreams that reveals both the murderer and the mystery of his own future.
KILL ME AGAIN brilliantly evokes the glitter of Hollywood in the forties and the terrible price that politics and paranoia exacted during that moment when the entire country was poised between the unifying intensity of war and the unlimited possibilities of peace.
REVIEWS:
"Faherty puts together an intricately plotted thriller that is not only plausible but peopled with intriguing and very human characters. Elliott has just enough angst and anger to be intriguing, and he's the best Los Angeles guide since Philip Marlowe."
—The Charlotte News & Observer
"Faherty may have himself a winner here. The storytelling skills he evidenced in the Keane novels are in strong evidence here, and in Elliott he has created a believable and likeable protagonist. The atmosphere of 1940s Tinseltown is very well done. . . . The first-person prose is straightforward and very readable, and the pacing is excellent. All told, this is one of the better new series. . . and a solid book."
—The Armchair Detective
"Alive with the music of 1947, the voices of the era, the smell of the postwar, refreshingly straightforward and evocative, KILL ME AGAIN is right up there with Walter Mosely's Devil in a Blue Dress and easily one of the best of the year. Don't miss it."
—Mystery Scene
ORDERING INFORMATION: amazon.com (trade paperback and Kindle) - Mystery Mike's (specify signed copy, if desired) - The Mystery Company (other eBook formats)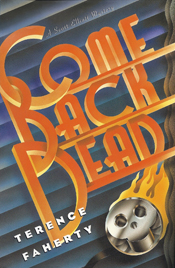 COME BACK DEAD
Winner of the Shamus Award
JACKET COPY:
The year is 1955, and the media landscape is changing. The arrival of television has taken a major toll on Hollywood's box office receipts, and times don't look to be getting any easier for the studios. As a result, RKO has decided to put its entire library of films on the block, as a way to recoup some of its losses.
This gives one of the most controversial men in Hollywood, Carson Drury, the chance he's waited for for over a decade—the chance to buy back and remake his second movie and noted flop, The Imperial Albertsons. Drury rose to stardom and was proclaimed a genius based on the success of his debut film, First Citizen, which he wrote, directed, and starred in. Unfortunately for Drury, his early artistic promise was never fully realized. The epitome of his failure—The Imperial Albertsons—was disliked by audiences and critics alike. According to Drury, this wasn't his fault. He was betrayed by his friends, by his actors, and, most of all, by RKO, who decided to scrap his original ending in favor of their own happy one.
For Drury, RKO's fire sale represents the chance to buy the film, re-shoot his original ending, and restore his tarnished reputation. The only problem is that someone doesn't want him to succeed, someone who may be desperate enough to kill. When sabotage on the set turns into attempted murder, it's time for Drury to bring in professional help. So he turns to Tinseltown sleuth Scott Elliott, the actor-turned-war hero-turned private eye. The charming security expert knows the ins and outs of Hollywood, making him the perfect man for the job. His mission: untangle the twisted motives from Drury's past and find the saboteur before the attempt to kill Albertsons turns into murder of a more lethal kind.
REVIEWS:
"The mystery pays off at the end with enough sockdolagizing surprises for a month at the bijou."
—Kirkus Reviews
"Faherty's deft plotting makes good on every little clue he plants, while pointing us and his hero toward all sorts of folks who just have to be the killer—except they aren't. In the end, we find a murderer who manages to win our sympathy and a wunderkind who, for all his arrogance and deceit, turns out to be a man of reflection and insight."
—The Indianapolis Star
"I was hooked on the ambience of old Hollywood and an Indiana that doesn't much exist anymore, and on the strength of Faherty's characterizations, especially the wily, dissembling Drury and a dying, cancer-ridden movie tough guy unmistakably fashioned after Humphrey Bogart. Elliott makes a tough and principled protagonist in this unique and satisfying series."
—The Cleveland Plain Dealer
ORDERING INFORMATION: amazon.com - Mystery Mike's (specify signed copy, if desired)
RAISE THE DEVIL
JACKET COPY:
How do you stop a vicious killer whose motive is vengeance and whose prey is a movie company on an isolated California ranch?
In 1962, Scott Elliott, the top operative of Hollywood Security, "Problem Solvers of Last Resort," travels to Las Vegas to rescue a starlet, Beverly Brooks, who has fallen afoul of a movie-struck gangster. When Brooks and the producer of her current film, a cut-rate Cleopatra, are later killed in a fiery plane crash, Elliott follows a bloody trail from the ranch to Los Angeles and back again. There he must deal with a murderous evil—and the knowledge that his actions may have unleashed it.
Evoking the high summer of a lost American era while exploring the weaknesses and secret sins that led to its destruction, RAISE THE DEVIL is in every way a worthy sequel to COME BACK DEAD winner of the Shamus Award for best private eye novel of the year.
REVIEWS:
"COME BACK DEAD, the second book in the series, won the Shamus Award for Best Novel, presented by the Private Eye Writers of America. RAISE THE DEVIL is better still, and it deserves to be read and savored."
—The Drood Review
"This is the most up-tempo of all the Elliott adventures, and from the very first pages of this book the pace is swift and the action is devastating to the characters. Time is taken to look at the effect of the crimes on the individuals, but Elliott himself is acting tougher, and has less patience for contemplation. Here, he is an action hero, and his third case may be recommended to any P.I. reader."
—Mystery News
"The fun derives from Elliott's expert unraveling of the mystery and Faherty's blend of real Hollywood history with the fiction necessary to the plot. In this novel, as he did in the first two Elliott tales, Faherty displays an encyclopedic knowledge of Hollywood trivia of the '40s and '50s. The stories are precious to old-timers who recall that era with fondness."
—The Chicago Sun-Times
ORDERING INFORMATION: amazon.com - Mystery Mike's (specify signed copy, if desired)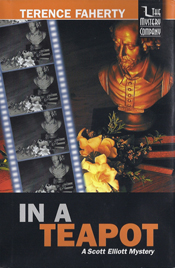 IN A TEAPOT
Shamus Award Nominee
JACKET COPY:
A film version of The Tempest, William Shakespeare's final play, featuring the cream of Hollywood's aristocratic British Colony? When the project is announced in 1948, it sounds like an idea that can't miss. But then the whispers start about one of those British actors and a burlesque queen, and murder soon follows. Enter Scott Elliott, top operative of the Hollywood Security Agency and soon-to-be husband of the lovely Ella Englehart. To get to the altar, Elliott must dodge blonde bombshells and gangsters, and solve a mystery that echoes Shakespeare's crowning work.
REVIEWS:
"Faherty writes this era like he was there. Slipping into this book was like sliding into my favorite recliner and just as comfortable. The story is engaging from the first paragraph, and Faherty's writing is as smooth as sixteen-year-old scotch. A wonderful mystery from a true master of the P.I. genre."
—Crime Spree Magazine
"A short, tasty lemon meringue by Terence Faherty, a writer whose unique gifts are decidedly undersung despite several major awards. Faherty, best known for his series about Owen Keane, a failed seminarian turned mystic detective, obviously loves movies: His KILL ME AGAIN takes full advantage of the possibilities built into the making of a sequel to Casablanca. And IN A TEAPOT has much of the same ingredients: wit, humor, characters just a little larger than life."
—The Chicago Tribune
"It's a charming story of a time when the sun was setting not only on the British Empire but on Hollywood's British Colony, whose members fear that their cultivated accents and aristocratic manners won't be enough to save their careers in this brave new world of movie-making."
—The Denver Post
ORDERING INFORMATION: amazon.com (hardcover and Kindle) - Mystery Mike's (specify signed copy, if desired)
THE HOLLYWOOD OP
JACKET COPY:
Private eye Scott Elliott—washed-up actor turned Hollywood sleuth—takes on the grifters, has-beens, and dreamers in postwar Tinseltown in these stories by two-time Shamus winner and Edgar nominee Terence Faherty.
In "Sleep Big"—published here for the first time—Elliott brushes elbows with LA's most famous detective and solves a case that baffled even that gumshoe's creator, Raymond Chandler.
In "Garbo's Knees," a paving square signed by the reclusive screen legend has gone missing. But was it Garbo's stone the thief was after?
Chasing stray actresses, hot jewelry, and a gun that may have started a war, Scott Elliott takes us on a tour of old Hollywood as the sun sets. Eight stories, with an introduction by the author.
REVIEWS:
"A reverent, nostalgic look back at Tinseltown's heyday, a time when all leading men were ruggedly handsome, all starlets had the faces of angels, and no one was a hundred percent honest—except, of course, for the private detective they so foolishly invite into their lives."
—Mystery Scene Magazine
"This collection of all the Elliott stories to date includes such tightly written gems as 'Unruly Jade,' 'Nobody's Ring,' and the PWA's Shamus Award winning short 'The Second Coming'... arranged in chronological order, from 1946 to 1966. We know we can't relive that era but Faherty makes it come alive again."
—Deadly Pleasures Magazine
ORDERING INFORMATION: amazon.com - indiebound.com - barnesandnoble.com - Mystery Mike's (specify signed copy, if desired)
DANCE IN THE DARK
JACKET COPY:
What would happen if a hard-boiled private eye from the 1940s found himself at a wild rock concert in the waning days of the 1960s? That question inspired DANCE IN THE DARK, the latest entry in the Shamus-winning Scott Elliott series.
It's 1969. The Summer of Love is a fading memory, but the Vietnam War rages on. Scott Elliott, veteran operative of the Hollywood Security Agency, agrees to find Miranda Combs, the runaway daughter of a has-been star. Her trail skirts LA's new growth industry, hard-core pornography, and ends at an outdoor rock concert under the control of a savage gang, where Elliott is as at-home as Sam Spade at Woodstock. Still, he'll take any distraction from his own troubles. His son Billy is missing in action and his marriage to the lovely Ella is cracking under the strain.
A second distraction is provided by an independent film company making a road picture about two motorcycle gypsies in search of love and peace and the meaning of life. Elliott is hired to find out who among the company's young idealists is smuggling in drugs from Mexico. The assignment takes on a new and deadly dimension after Elliott's chief suspect is murdered and Elliott is targeted himself.
An exciting climax, pitting Elliott against the motorcycle gang, captures the idealism and violence of the Vietnam era. It brings to a satisfying conclusion this fast-paced mystery that lovingly re-creates both a lost time and the private-eye novels of that time.
REVIEWS:
"The fourth Elliott novel is rich in sixties ambiance, especially in its portrayal of the counterculture's dark, cynical side. Think Sam Spade trading barbs with bikers and hippies."
—Booklist
"While the investigator is out of his familiar time period and perhaps his comfort level as well, it's good to have him back in novel length form."
—Deadly Pleasures Magazine
"Sympathetic and all-too-human characters, hard-won compassion, smart and sturdy plotting, and a light dusting of good old-fashioned pulp wit and grit, making this a memorable and surprisingly moving read."
—Mystery Scene Magazine
ORDERING INFORMATION: amazon.com - indiebound.com - barnesandnoble.com - Mystery Mike's (specify signed copy, if desired)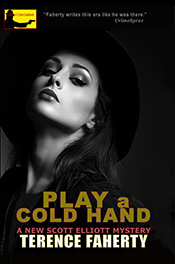 PLAY A COLD HAND
JACKET COPY:
For fans of Hollywood noir, a new Scott Elliott mystery is a major event. With his former boss dead in an alley, Scott and his estranged wife follow a cold case that should have remained buried in a gangster's lurid past—but hasn't. Because there is no such thing as a retired killer.
REVIEWS:
"Readers will know how to relish the pack of Luckies and the Rexall drug store with a phone booth. And the allusions. Aren't P.I.s big drinkers? 'Every since Nick Charles,' Elliott laments, 'we've been trying to cut back.'"
—Booklist
"This fifth novel in the Scott Elliott mystery series, by Shamus-winning and Edgar-nominated Faherty, is another engaging, well plotted recreation of Hollywood movie culture... his very likeable P.I. knows Hollywood and Los Angeles history—and many of its secrets—very well. For movie fans especially, this mystery is a winner."
—Deadly Pleasures Magazine
"A masterpiece of hardboiled narrative style... Faherty's book is a finely tuned Southern California noir filled with fifty years of Hollywood allusions and illusions."
—Ellery Queen Mystery Magazine
ORDERING INFORMATION: amazon.com - indiebound.com - barnesandnoble.com - Mystery Mike's (specify signed copy, if desired)